Welcome to Our Practice
Dentist Monrovia, CA - Healthy Life Dental
Friendly Staff. Beautiful Smiles. Welcoming Environment.
Healthy Life Dental Care providing Quality dental care to Monrovia, Duarte, Azusa, Arcadia, Baldwin Park and surrounding cities!
When you visit our Monrovia dental office, your smile is our top priority. Dr. Elaine Lu and her entire team are dedicated to providing you with the personalized, quality dental care that you deserve.
Healthy Life Dental is a full-service dental office that can provide you with all the dental services you need to create and maintain a healthy smile. Your mouth is important to your overall health. When you don't take care of your teeth and mouth, you can experience a long list of other problems. This is why choosing the right dentist in Monrovia is critical. Our Monrovia dental clinic offers a list of services in general, restorative and cosmetic dentistry to meet your needs.
Monrovia Family Dentistry
If you are seeking a Monrovia dentist, you have come to the right place. Whether you need a dentist for yourself, your spouse or your children, we offer services for all of your needs. From the routine x-rays and cleanings everyone needs on a regular basis to tooth-colored fillings and other repairs, you can have the healthy smile you desire. Our goal is to ensure you are happy with the way your smile looks and that you don't experience problems further down the line.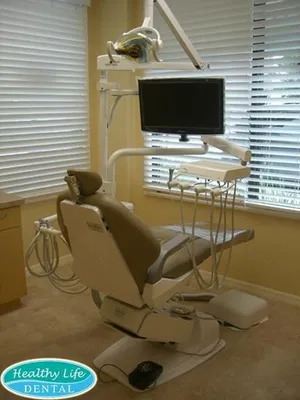 For some people, looks are everything. Whether your teeth have become discolored due to smoking or drinking coffee or your teeth are crooked or missing, your smile won't have the impact you want it to. In these cases, our dentist in California can provide you with cosmetic procedures that will give you the straight white smile you desire. Our cosmetic dentistry procedures include veneers, teeth whitening, dental implants and dentures. Whatever you need to make your teeth whiter or straighter or to fill in the gaps, our experienced dentist can help you attain good dental health.
Some of the services we provide include:
Cleanings & Exams
Dentures & Partials
Root Canal Therapy
Periodontal Treatments
Extractions
Teeth Whitening
Tooth Colored Fillings
Crowns & Bridges
Porcelain Veneers
Dental Implants
We'll Provide You With That Winning Smile!